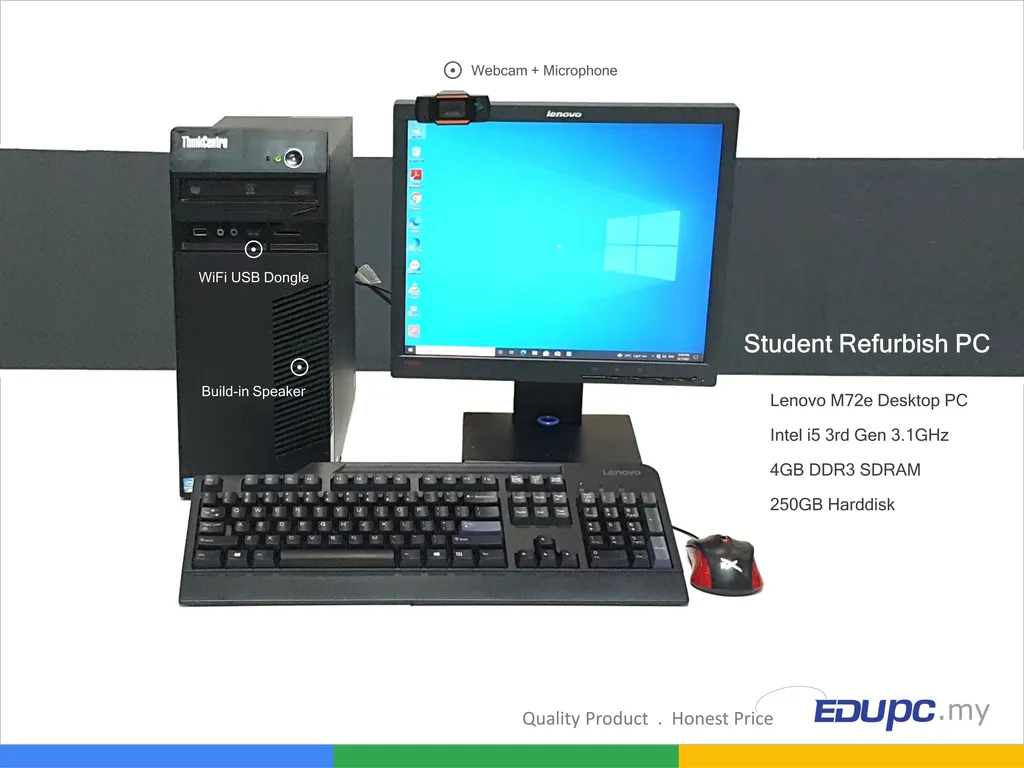 Student Refurbished PC + WiFi + Webcam + Speaker
Kita Bantu Kita - Student PC Purchase Program SPPP
The current Covid-19 pandemic has changed the way our students attend classes. Online classroom has become the new normal. This has resulted in students from under privileged families missing the opportunity to continue attending school as many of them are not able to afford a computer, especially families with four to five children.

With this program we hope to help more families and children and provide them the opportunity to continue schooling.
Intel i5 3.1GHz (3rd Gen)
17" Monitor (Mixed Brand)
Windows 10 Professional (Windows 8 Pro OEM Sticker)
3 Months Hardware Warranty
1. One unit Console
2. One Monitor (Mixed Brand)
3. One USB Keyboard (Mixed Brand)
4. One USB Mouse (Mixed Brand)
5. One USB Webcam
6. One USB WiFi Dongle (802.11n)
7. One VGA Cable
8. Two Power Cable
FREE Delivery within West Malaysia
1. This Student Purchase Program ("Program") is ONLY applicable to students.

2. Each student is limited to a purchase of 2 units of systems during the Program.

3. This Program is not available in conjunction with other offers, discounts, privileges or programs, unless otherwise expressly stated.

4. EDUPC.my reserves the right to change the terms and conditions of this Program at any time without prior notice or liability to you.

5. All decisions made by EDUPC.my in respect of this Program or in the event of any dispute(s) are final.

6. This Program is only limited within Malaysia.

7. All information are accurate during the point of communication.

8. Mistakes : While all efforts are made to check pricing and other errors, inadvertent errors do occur from time to time and EDUPC.my reserves the right to decline orders arising from such errors.

9. All purchases in this Program is ONLY applicable to online purchase(s) subject to verification of student status by Sales team via Chat.